obile web is growing like crazy and mobile internet users are eager to view your web presence through different screen sizes and resolutions. Your existing website that might have been performing well for desktop and laptop users fails to fit the screens of tablets or smartphones, and your business is ready to bear the brunt of losing the exponentially swelling numbers of mobile web users. Get ready to prevent that from happening by investing in responsive websites that are optimized in terms of design and functionality to entertain your audiences across varied screen sizes.
SystemSeeders is delighted to offer responsive web design and development services that create an unmatched web experience for web users in a multi-device, multi-platform, and multi-browser environment. In other words, we add a 'universal' appeal to your website and make it an attractive entity in the digital space.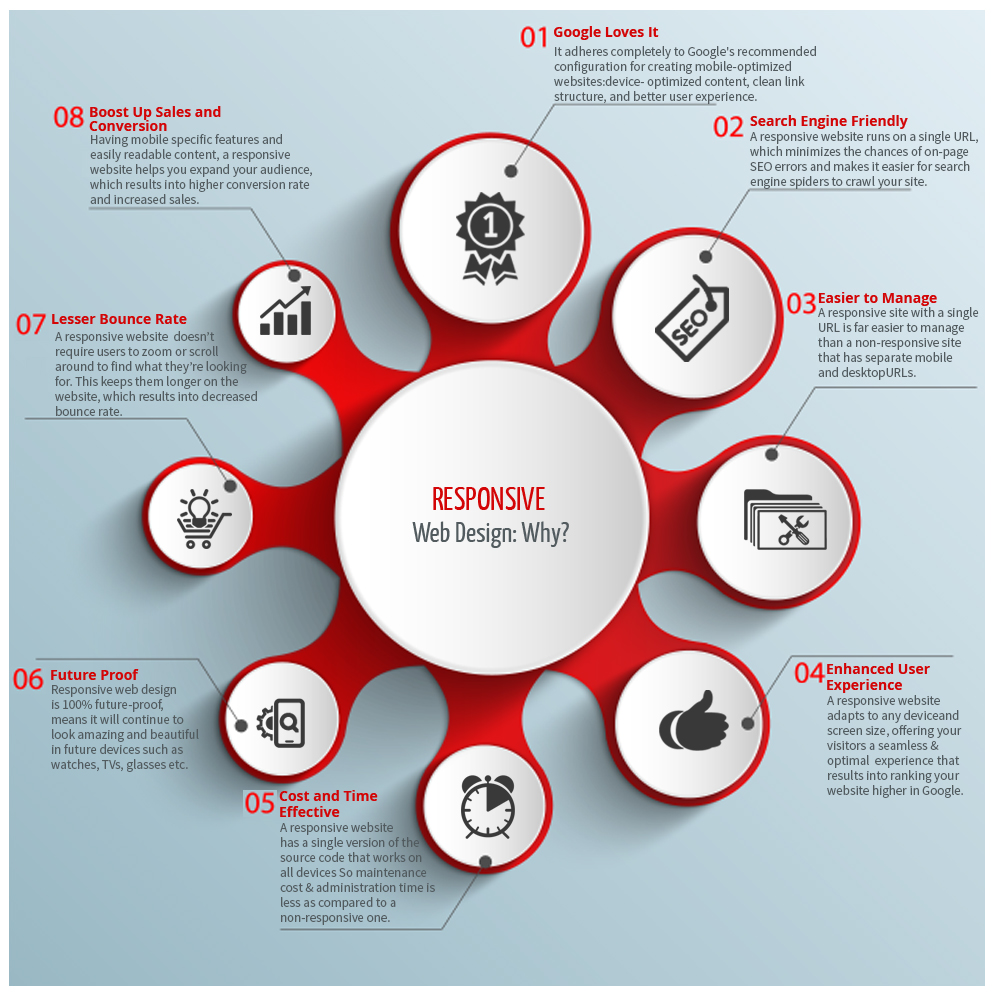 Advantages of having a Responsive Website up and working:
Consistent Experience: Your users might access your website from desktop one day, from tablet the second day and from a Smartphone the third day. With a responsive website, they would enjoy a uniform experience each time.
Customer Retention: With so many rival websites, your visitors won't take enough time to leave if your website fails to perform on their preferred screen size. Responsive designs deal with high bounce rate, inspire your visitors to spend more time on your site and ultimately increased customer retention rate.
Increased Business: Apart from retaining, a responsive website would also attract new customers, which results in increased web traffic, improved lead generation and more sales.
Improved Search Engine Rank: Just like web users, search engine spiders too like optimized websites that offer a hassle-free experience via smooth navigation, mess-free layout and other good features. With responsive websites, you would definitely find improved rankings with web and mobile search engines.
Development Efforts: Rather than creating different websites for different screens, choosing responsive websites saves significant amounts of development cost and time.
Our experts in responsive web design and development have great knowledge and expertise in following the best approach in this direction. Listed below are some unique aspects of our services that would aptly match your idea of a responsive website:
We begin by having a clear understanding of our clients' specifications and needs to provide them with desired website designs with quick turnaround time.
Our up-to-date knowledge about Google's recommendations and other design standards keep us adhered to the best responsive design strategies.
Content-out approach using which we dynamically resize the website content to ensure that your website visitors enjoy a quality browsing experience.
Creativity in responsive website development to ensure that your website stands out in the crowd of similar-looking mobile websites.
Designs compatible with mobile phones, tablets, laptops and desktops as well as with the popular mobile platforms like Android, Windows and iOS and top browsers like Internet Explorer, Safari, Chrome, Firefox and more.
We are available round-the-clock to respond to your call for responsive website designing and development. Don't delay it any further and call now to get started.
As long as you have a Cell Phone you're never alone.
OUR BEST PROJECTS
We've had the amazing privilege of working with some of the most amazing clients in the world.