ode.JS is the cross-platform open-source framework with many basic modules of Node.JS written is JavaScript. This popular platform is used by huge MNCs like Twitter, Yahoo, eBay etc. to harness the maximum potential and support the data intensive applications. At SystemSeeders, we make use of the Node.JS framework to build various client-specific websites, web portals and applications.
Node.JS interprets the JavaScript by making use of the V8 JavaScript engine that has been made by Google. This V8 engine is fast and is the best one you can use to develop your application required for writing or reading from the internet. Developers can write the new modules by making use of the JavaScript framework.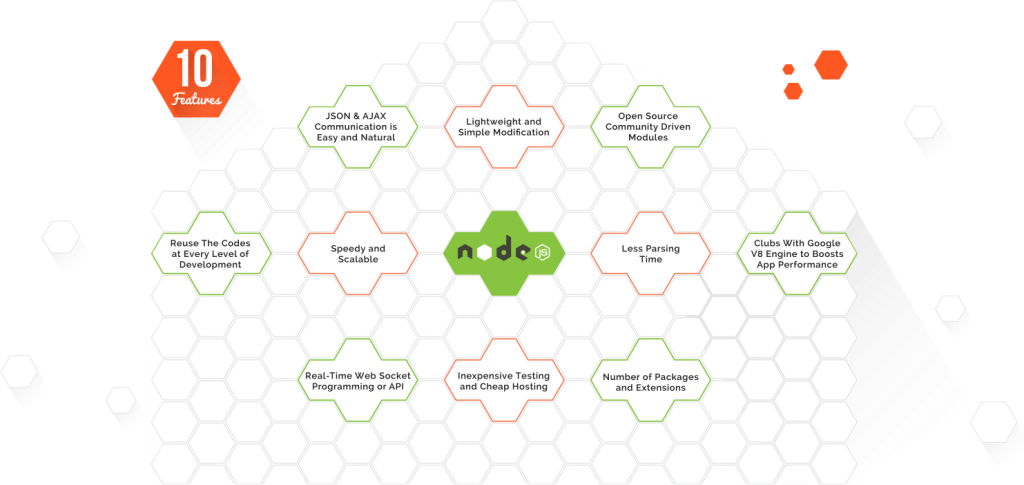 Features of Node.JS Framework?
Scalability: Quite different from the other web application traditional frameworks, Node.JS runs on the event loop principle. This makes the framework scalable for the real-time applications.
Augmented Efficiency: With the help of the Node.JS framework, you can build networking applications that can handle increased amount of workload and enhanced efficiency. You can use this JavaScript software platform to build apps that can handle the various client apps while avoiding the RAM boundaries.
Cheap Hosting: You can deploy the Node.JS Framework for cheap hosting and inexpensive testing.
Enhances Building Applications: The Node.JS framework makes the development of real-time applications easy due to the WebSockets. These Websockets are 2-way open communication channels that exist between the server and the client. Due to the WebSockets, you can easily build applications, such as Chat Engines, Games etc.
Why Node.JS?
Open-source Platform
Advance Server-side Tool
Cost-effective
Real-time
Highly-scalable
Our Node.JS Development Services:
JS API Development
Plug-ins Development
Portal Development
AJAX Development
Web App Development
Mobile Application Development
eCommerce Shopping cart
Content-Management Tools
JS for the UI/UX Design
Big Web Applications
Marketplace Development
Backend-Dashboards Development
Interactive Application Development
Dashboards for System Monitoring
Real-Time Statistics
Best Reasons to Choose SystemSeeders Services for Node.JS Development
Our team of talented Node.JS developers has the technical competence, knowledge, and experience to create apps with meticulous care and accuracy.
Our team of experts supervises the Node.JS. Development and we test the apps before delivering to our clients.
We strive hard to develop apps of high quality with a fast turn-around time.
Known for highly experience team of developers and transparent approach in dealing with our clientele, SystemSeeders is committed to serving you with cost-effective Node.js solutions. For customized development and Node.js consulting, you can contact us.
Contact now to discuss your NODE.JS needs or request a quote right now!
The gap between theory and practice is not as wide in theory as it is in practice.
OUR BEST PROJECTS
We've had the amazing privilege of working with some of the most amazing clients in the world.